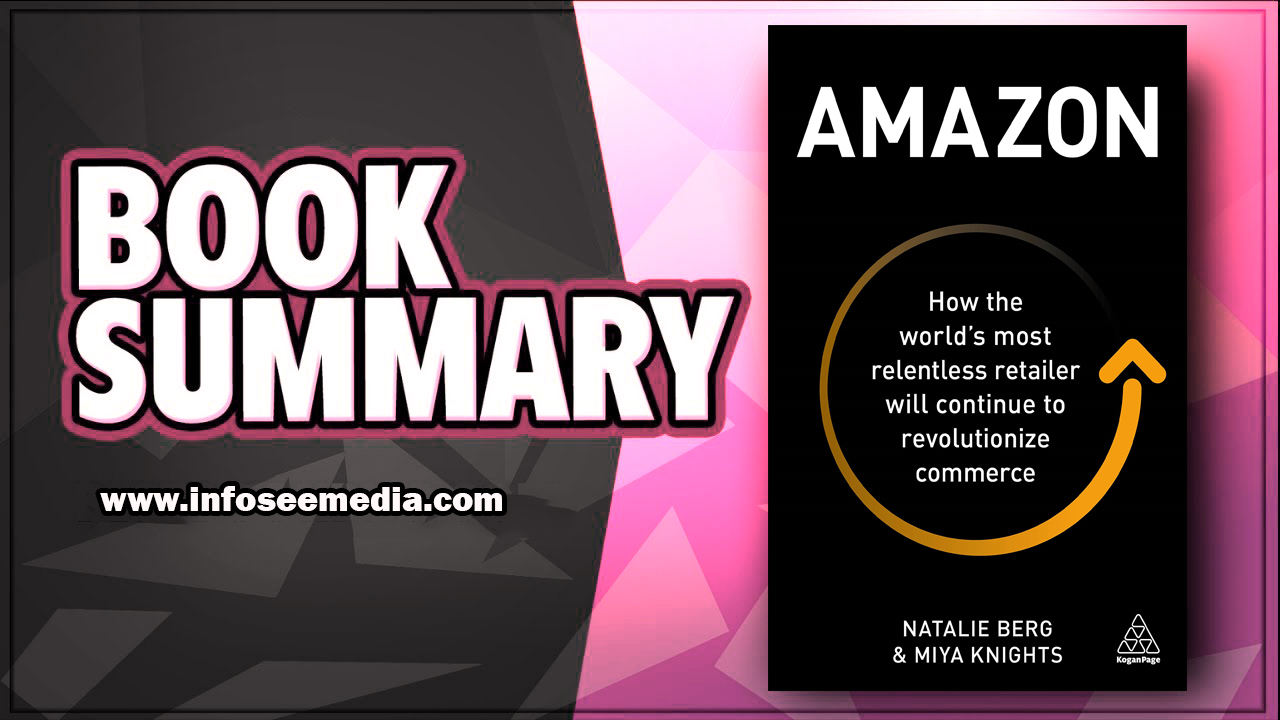 "Explore the story and strategy behind Amazon's success with our concise summary of the book by Natalie Berg and Miya Knights. Learn about the company's innovative approach to e-commerce, logistics, and customer experience, and its impact on the retail industry."
Book Summary
If you have recently made an online purchase, what was it? Most likely, you purchased it from Amazon. It seems that nowadays everyone has an account. Many of us appreciate the free two-day shipping and other benefits of our Prime memberships. This massive corporation has permanently altered the way we shop, but it wasn't always so important.
A virtual bookstore run out of Jeff Bezos's garage, Amazon has come a long way since its humble beginnings. Exactly what was the tipping point that caused his company's stock price to skyrocket, resulting in such a revolutionary shift in the way the world does
That's exactly what you'll find out by reading Natalie Berg and Miya Knights' Amazon: How the World's Most Relentless Retailer will Continue to Revolutionize Commerce. Learning the secrets to Amazon's meteoric rise could help you achieve your own business goals.
What I learned most from this book about everyone's favorite online retailer are these three things:
If you want to be as successful as Amazon, you need to focus on your customers first.
Because of how it attracts and retains customers, Amazon Prime is critical to the company's growth and success.
To succeed in today's hypercompetitive digital marketplace, you need to adopt Amazon's model of relentlessly refining and updating your technological know-how and product offerings.
Learn the secrets to Amazon's success right here! Get moving!
Lesson 1: To succeed like Amazon, put customers first.
Without buyers, a company would fail. One area in which Amazon excels is in knowing this lesson better than anyone else. That commitment is reflected in the fact that "Customer Obsession" is the first of the company's 14 leadership principles.
Anyone who has used Amazon regularly can attest to the site's fantastic quality. Shipping within two days is now the norm, and that's just one of many reasons why we love shopping at this particular online store. The company's investment in R&D to enhance the customer experience is largely responsible for this success. The percentage of profit Amazon invests—6%—is significantly higher than the market average of 1-2%.
Amazon's product development teams always start with the customer in mind. To gauge the general public's reaction to potential new products, some companies have their staff distribute fictitious press releases.
Did you know that Amazon is the go-to site for over half of all product inquiries conducted online? Because of this, it has access to a vast trove of information that can be used to improve its customer service. Amazon is so good at anticipating customer needs that its products and services are often perfectly tailored to those needs.
Amazon's continued focus on customer-benefitting innovation is a major differentiator for the company. The dedication of the staff to the customers they serve has become an integral part of the company's success and the reason for its widespread popularity.
Lesson 2: Amazon's business model relies on Prime members.
Did you know that the cost of a Prime membership barely scratches the surface of all the perks you receive? Even Amazon's shipping costs wouldn't be covered! However, it disregards such specifics. The big picture is what really matters.
The concept of a customer loyalty program is universal and has been around for quite some time. Yet Amazon's dedication to its customers has made Prime one of the most valuable loyalty programs in history. Two-day shipping, special discounts, and a plethora of media are all included.
Making a profit isn't even the driving force behind this service. The main goal of the Prime membership is to help customers save time and energy. Because of this, going with Amazon is the most obvious option.
Amazon is putting in a lot of effort to make Prime memberships so valuable because it expects to see big returns in the long run. Their efforts are well rewarded, as Prime members spend an average of 500% more than non-members do on Amazon. This makes perfect sense as the foundation of their business.
Lesson 3: In the digital age, you need tech skills and practise.
If you think Amazon is successful in retail, you haven't seen anything yet when it comes to the technological innovations happening behind the scenes. It also lists "Innovate and Simplify" as one of its guiding principles. Robotics, automation, cashier-less stores, cloud computing, and other related fields have all benefited from this.
It will be fascinating to see how far Amazon is able to take the use of robots in their warehouses. To our surprise, in 2012, they purchased the company that supplied the majority of their warehouse robots. It's hard to believe that twenty percent of the company's workforce was made up of machines back then. Now, Amazon is boosting its productivity and expanding its product offerings by investing in robotics research and development.
Envision how fantastic it would be if you could shop at a store and leave without ever having to interact with a cashier. So far, I haven't had the chance to try this out, but I definitely plan to visit one of the Amazon Go stores that offer it soon. If you didn't need to have your groceries rung up after each purchase, you could save a lot of time, effort, and money. Amazon's proprietary technology can identify what you're taking with you at checkout.
Did you know that in addition to Nasa and Netflix, Amazon also works with Nordstrom? All three of these businesses, including Amazon itself, make use of Amazon Web Services (AWS), a cloud computing platform that Amazon developed in-house but now makes available to the public.
It's not surprising that Amazon is successful in so many ways, given how much money it pours into developing new technologies. If you want to keep your business afloat in today's digital economy, you need to adapt and master optimization techniques.
To Whom Should I Recommend This Book?
Store owner #2, aged 44, has doubts about the future.
The 24-year-old cares about business tactics and has a degree in business administration.
And all Amazon shoppers in general.
Amazon Book Review
Amazon is an excellent book full of useful advice for any businessperson, whether or not they work in retail. Learning the inner workings of this megacorporation is fascinating. It's helpful to develop an innovative mindset like Jeff Bezos', in my opinion, and I think companies like this make the world a better place.